New Clients at Balanced Back & Body
We look forward to welcoming you to Balanced Back & Body. You may contact our office to book your initial visit or use our convenient online scheduling feature.
Your First Visit
We don't believe in making you wait to start feeling better. Your healing journey begins at your first appointment. Here's what you can expect:
Consultation: We begin with an in-depth, personalized consultation to discuss your health history, current concerns, and goals. Whether you're looking for short-term pain relief or a new wellness approach to life, we'll tailor a care plan that's right for you.
Exam: We don't believe in guesswork regarding your health. We conduct a thorough examination to ensure a comprehensive understanding of your condition. Based on your consultation and examination, Dr. Wood will create a care plan that is tailored specifically to help you meet your goals in the most effective and efficient manner possible.
Chiropractic Adjustment: If you're ready to begin, we'll start your care plan at this visit so you don't have to wait for relief. You can experience the power of chiropractic adjustments that are focused on restoring optimal joint alignment and nervous system health.
Focused Rehab: Our specialized rehabilitation programs target your unique needs, aiding in a speedy recovery.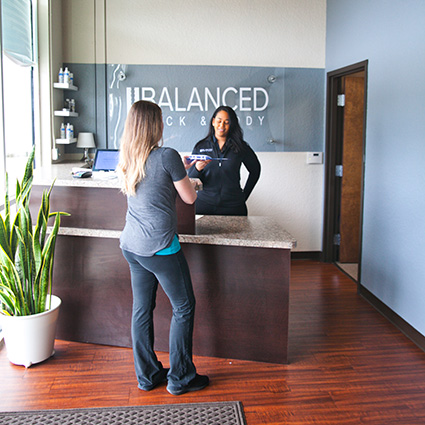 Paying for Care
We are in-network with most major insurances, including Cigna, Blue Cross Blue Shield/Florida Blue, United Healthcare, and auto insurance carriers. For specific details, don't hesitate to contact our office.
For clients not using insurance, we offer a new-client special of just $134, which includes $79 for the consultation and examination and $55 for your chiropractic adjustment.
Free Or Reduced Fee Services
The client and any other person responsible for payment have a right to refuse to pay, cancel payment, or be reimbursed for payment for any other service, examination, or treatment that is performed as a result of and within 72 hours of responding to the advertisement for the free, discounted fee, or reduced fee service, examination, or treatment.
Book Today
Contact us today to schedule, or use our online booking feature.
Good Faith Estimate Notice
As of January 1, 2022, a new Federal law, THE NO SURPRISE ACT, requires all health care providers to post a "Good Faith Estimate Notice" on their websites.
You have the right to receive a "Good Faith Estimate" explaining how much your medical care will cost.
Under the law, health care providers need to give patients who don't have insurance, or who are not using insurance an estimate of the bill for medical items and services.
You have the right to receive a Good Faith Estimate for the total expected cost of any non-emergency items or services. This includes related costs like medical tests, prescription drugs, equipment, and hospital fees.
Make sure your health care provider gives you a Good Faith Estimate in writing at least 1 business day before your medical service or item. You can also ask your health care provider, and any other provider you choose, for a Good Faith Estimate before you schedule an item or service.
If you receive a bill that is at least $400 more than your Good Faith Estimate, you can dispute the bill.
Make sure to save a copy or picture of your Good Faith Estimate.
For questions or more information about your right to a Good Faith Estimate, visit www.cms.gov/nosurprises or call 800-985-3059.
---
New Clients at Balanced Back & Body | (407) 413-5731