About Balanced Back & Body
Our Mission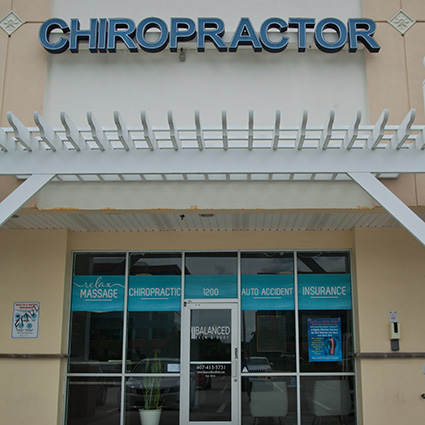 At Balanced Back & Body, our mission is to help as many people as possible achieve maximum health results through chiropractic care and other natural forms of health care, including physical rehab, nutrition, and state-of-the-art techniques.
We want to help families in the Central Florida area create healthy lives based on a balance of physical, mental, and spiritual aspects of being. We strive to bring your spine and nervous system back into balance with the rest of your body, so you can achieve optimal health and wellness.
Our History
Our chiropractor, Dr. Kristy Wood, is a lifelong athlete who discovered chiropractic care after suffering a neck injury as a teen. After receiving her undergraduate degree with a focus in Nutrition Sciences from SUNY Buffalo, she went on to earn her Doctor of Chiropractic degree from Palmer College of Chiropractic in Florida in 2007. After working in other clinics, she opened our Altamonte Springs practice in 2014.
Dr. Wood is passionate about providing a comprehensive approach to care that combines chiropractic with massage therapy and other therapeutic soft tissue techniques. Our professional and courteous team is highly skilled in addressing a wide range of conditions. Dr. Wood has extensive spine and nervous system knowledge, offering attention to detail in functional movement and soft tissue work.
Our Balanced Approach
As our name implies, we are dedicated to providing natural health and balance to every client. Chiropractors are holistic healers and are specifically trained to work with the nervous system. The nervous system is the control center of everything in the body, including all cells, organs, and tissues, and therefore has to be given special attention. We provide gentle and effective care for a variety of neuromusculoskeletal issues, such as:
Arm or leg pain
Headaches
Low back pain
Mid-back pain
Muscle aches
Neck pain
Numbness and tingling
Sciatica
Sports injuries
Book Today
Whatever your healthcare objectives, we want to help you achieve and maintain them! We are in-network with Cigna, Blue Cross Blue Shield/Florida Blue, United Healthcare, and auto insurance carriers. Contact our office today to schedule.
---
About Balanced Back & Body | (407) 413-5731
Massage Therapy MM#32556